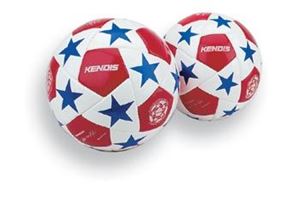 Soccer Balls
Competition Striker
Ideal ball for advanced players.
OFFICIAL BALL OF NPSL (National Professional Soccer League)
High grade polyurethane synthetic leather, reinforced with multi-layer latex impregnated "anti-stretch" polyester linings, KENDIS "ATCB" carbonated latex bladder, unique hand stitched panel design to better take the pounding of indoor games.
Shape retention guaranteed for three (3) years.